Our pride
in oysterfarming
Yamakita Suisan is producing safe and delicious oysters with our deep experiences of oyster farming in Jigozen
Faithfully nourishing oysters with appreciaton of the grace from nature
During the off-seasons – from April to October, we oyster farmers are nourishing baby oysters in the ocean.
For the first year, we put stresses on baby oysters at tideland so that they can grow large and strongly. Once they grow, baby oysters are moved and spaced evenly hanged at the off-shore raft.
During the summer, we often confront against the tyfoons and raging waves. Hence we will be daily checking weather and wind forecast in order to grow tasty oysters. In fact, the work itself is harder and very sensitive during the summer than during the winter (peak season)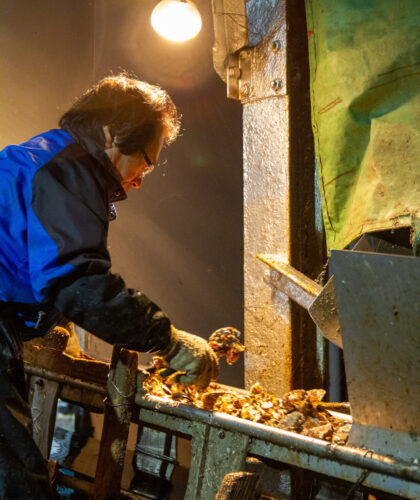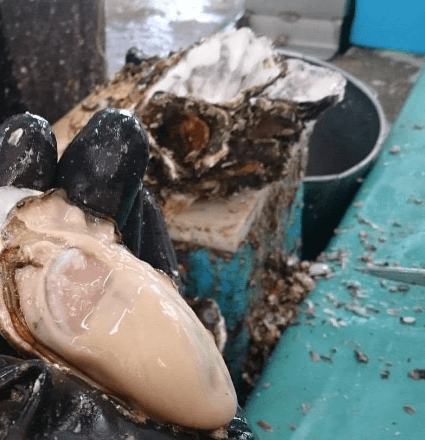 The reason why Yamakita Oysters are safe and secure
During peak-season – from Nov to March, we will be on board to harvest oysters from 3 am in the morning everyday. Once we finish harvesting, dip the oysters in to large pool and clense oysters with purifier. By doing so, oysters will disgourge muds from inside by themselves.
Once those are purified, Uchiko (staffs who opens oyster shells) will open up shells. It is very impressing to see how fast they can open the shells!
Once shells are removed, shucked oysters are kept in the sea water to keep the freshness. Before shipping them to our customers, we will examine and select the best oysters one by one in order to deliver good shaped & tasty oysters.
Yamakita Oysters never shrink even after cooking
Yamakita oysters are grown in the Seto inland sea where enriched with lots of Oysters foods (Planktons). Therefore, our oysters are large, with high nutrients, and rich taste. In general, once oysters are washed in pure water, they will shrink when they are heated. However, all the treatment process of Yamakita Oysters – from harvest to shipping – are completed by using sea waters. Therefore Yamakita Oysters will not shrink even after heating.
Yamakita Oysters are always washed very carefully with sea waters before deliver to our customers so please do not wash too much before you cook.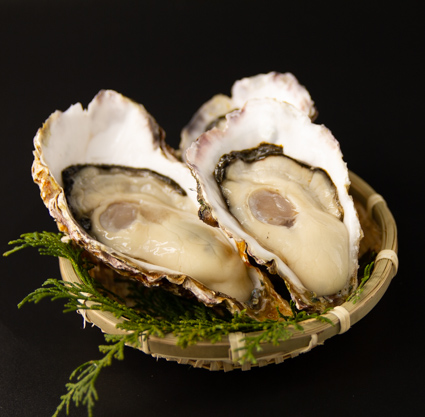 Onlinr Shop